An important question in acquisition: "What stage is my customer in?" It defines the content you need to deliver. In this regard, "The hero's journey" is a fine tool. He shows that people have different content needs at each stage. That goes for epic stories like the LOTR trilogy, a consumer going on an errand and a business associate who could use your product or service.
If you know what information a potential customer expects, you can meet their needs.
In his book "A Hero with a Thousand Faces," Joseph Campbell describes that every customer journey follows a set formula. If you understand this formula you can apply it to any book you know. Or on a movie. And even on an acquisition strategy for new clients.
We like practicality, so we divide the hero's journey (hereafter customer journey) into four pieces, the first of which deals with the journey from suspect to lead. The other quadrants deal with customer satisfaction, customer retention and promoting the customer to ambassador.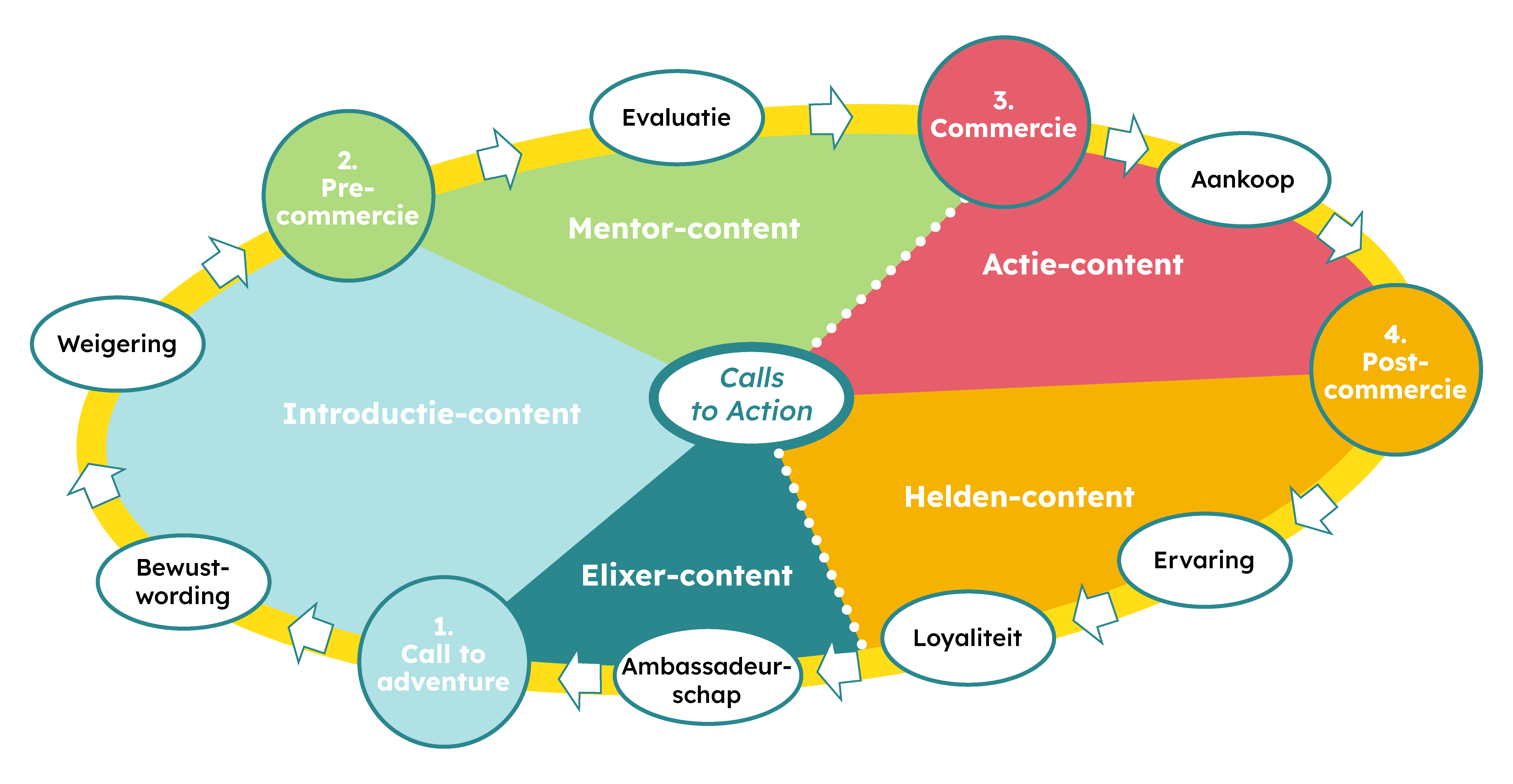 Step 1. Call to adventure: introductory content
Each story begins with a call to adventure, a call for the hero of the story to participate. The potential customer is in their own world and the content is aimed at inspiring them and giving them ideas. For example, by providing a solution to a potential issue.
The suspect has no problem and seeks no solution.
At this stage, the potential customer is still difficult to identify and reach. He is still barely aware of the brand's proposition and is not yet open to it, if at all. So the content must trigger something in him and the call to adventure must move him.
Awareness
The potential customer is now aware of the brand's capabilities to solve their issue. He is just not yet aware that he has an issue. At this stage, you may choose to "talk the customer into a problem" Your brand then calls the prospective customer to embark on the adventure. In business acquisition, this is usually inadvisable: You should "just wait" until the client sees an issue for himself. During that wait, you regularly share branding content with the suspect.
If you make sure that a suspect gets the right information at the right time, he develops himself into a customer over time.
Refusal
The suspect is considering his options, possibly looking for more information and/or for other options, and comparing the various possibilities. He convinces himself that it is better not to change, but to leave everything as it is. This is where your content should make him see the benefits of a change. Make sure that this change does not necessarily lead to a choice of your product or service. All options are still open.
Step 2. Pre-commercial: mentor content
Hooray! The prospect decided to accept the challenge. Unfortunately, not directly with your solution. He can choose all kinds of substitutes. It is too early to become concrete.The brand is changing its "face" and switching to the archetype of mentor. In that role, the brand tries to stand above the parties and shares knowledge so valuable that the potential customer is willing to weigh the alternatives and end up with your product or service.
The prospect has a problem and is looking for a solution.
In this phase, you offer unique information or a course. Also consider manual videos, tutorials, reviews and experiences of customers who have gone before them. If the potential customer accepts the information, he takes a big step. He gradually chooses your solution.
Step 3. Commercial: action content
The lead has chosen your solution.
The purchase
The potential customer has overcome many of his doubts. He has not been tempted by competitors and he "only" needs to be confirmed in his decision. This is also the phase where you formalize the purchase: What will we deliver or do, when and what will it cost.
Step 4. Post-commercial: hero content
The customer is now a customer! Goal achieved! But you can't sit back. The customer must be cherished. He is now very receptive to content that helps him get the most and best out of his purchase. Content that teaches the customer more about the applications of their purchase and ensures that the enjoyment and value of the purchase increases further.
The customer is satisfied with his purchase and seeks confirmation. The goal is to turn a satisfied customer into a loyal customer. A satisfied and loyal customer stays a customer.
Ambassadorship: elixir content
Truly satisfied and loyal customers may even go so far as to volunteer, or with a little help, to help acquire future customers. These customers are your biggest fans, and you need to take good care of these ambassadors by creating special content for them, for example. Perhaps even content accessible only to them. Make them feel valued and help them spread your message.
That's all, folks! (cu soon on the next cartoon)
Now we are at the beginning of another adventure. Time to begin the second part of our trilogy, in which the customer again plays an important role. Keep an eye out for announcements!